At Walsgrave Church of England Academy, our vision is "Together we Thrive'. – Jeremiah 29:11 biblical reference. 'For I know the plans I have for you," declares the LORD, "plans to prosper you and not to harm you, plans to give you hope and a future.'
Our purpose is to provide all of our children with the opportunity to live our distinctively Christian mission through providing a rich, broad and balanced curriculum. This allows all of our children to flourish academically, socially and emotionally. We do this by celebrating our distinctiveness through Collective worship, song, prayer and reflection, our curriculum, rich displays.
We aim to build the skills to 'live life in all its fullness' and ensure our learners reach their given potential as individuals and flourishing as one of God's children.
Our Vision and Values are not static and are lived daily within our school community. It feeds into all we do from our policies rooted in biblical reference, into our practise that includes our structured half termly collective worship plans, our adapted curriculum for our community and ensuring we continue to provide opportunity for personal development by living our Christian values of Friendship, Endurance, Service, Thankfulness, Forgiveness and Hope.
The image of our vision shows that we truly are 'rooted' in our Christian values. As our vision states, the tree is planted in good soil and with the support, warmth and guidance supported of god's light, the tree, and all that are supported by it, blossom as God's children.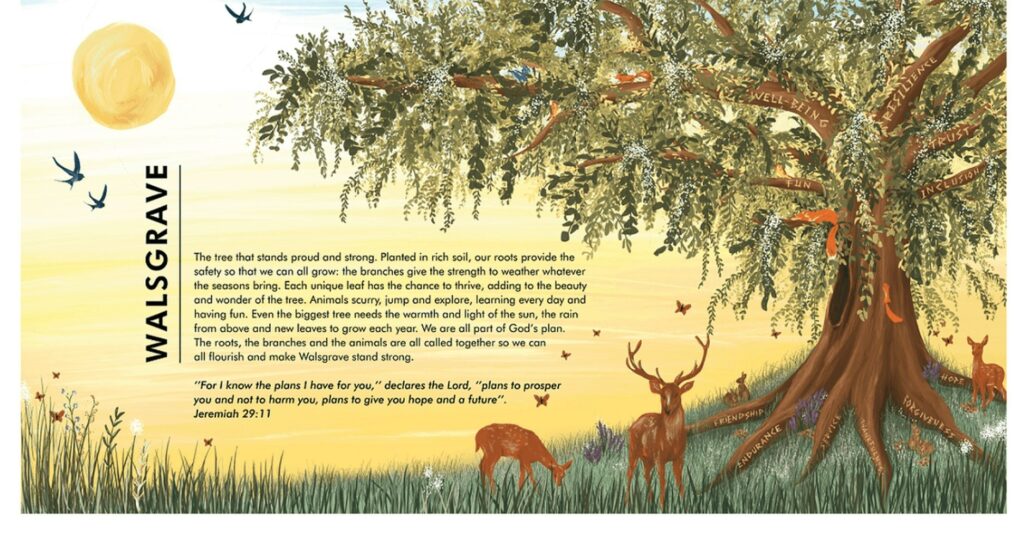 What are Walsgrave's Christian Values?
Friendship – If one falls down, a friend can lift him up.
Ecclesiastes 4:10 (NIV)
Endurance – We also pray that you will be strengthened with all his glorious power so you will have all the endurance and patience you need Colossians 1 10-11 (NLT)
Thankfulness – Give thanks to the Lord, for he is good; his love endures forever. Psalm 107:1 (NIV)
Forgiveness – Forgive us the wrongs we have done, as we forgive the wrongs that others have done to us. Matthew 2:12 (GNT)
Service – God has given each of you a gift from his great variety of gifts. Use them well to serve one another. 1 Peter 4:10 (NLT)
Hope – For I know the plans I have for you," declares the Lord, "plans to prosper you and not to harm you, plans to give you hope and a future. Jeremiah 29:11 (NIV)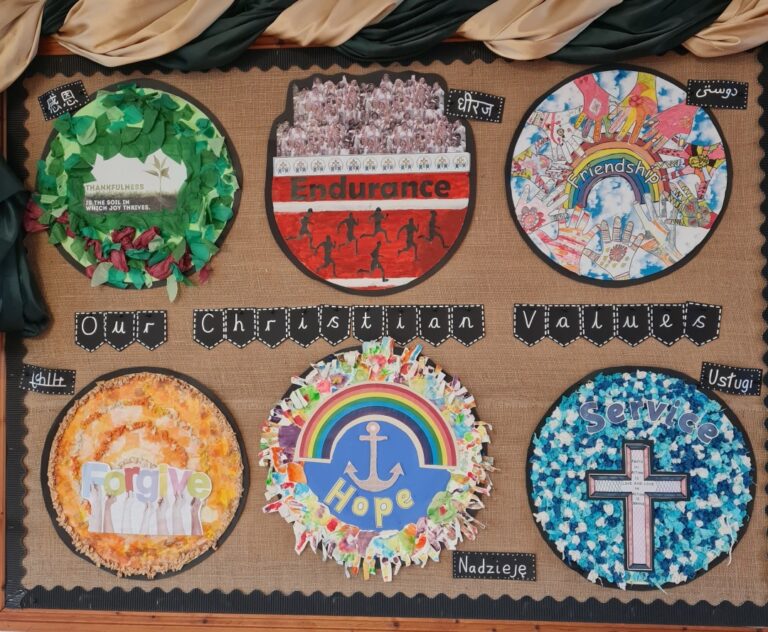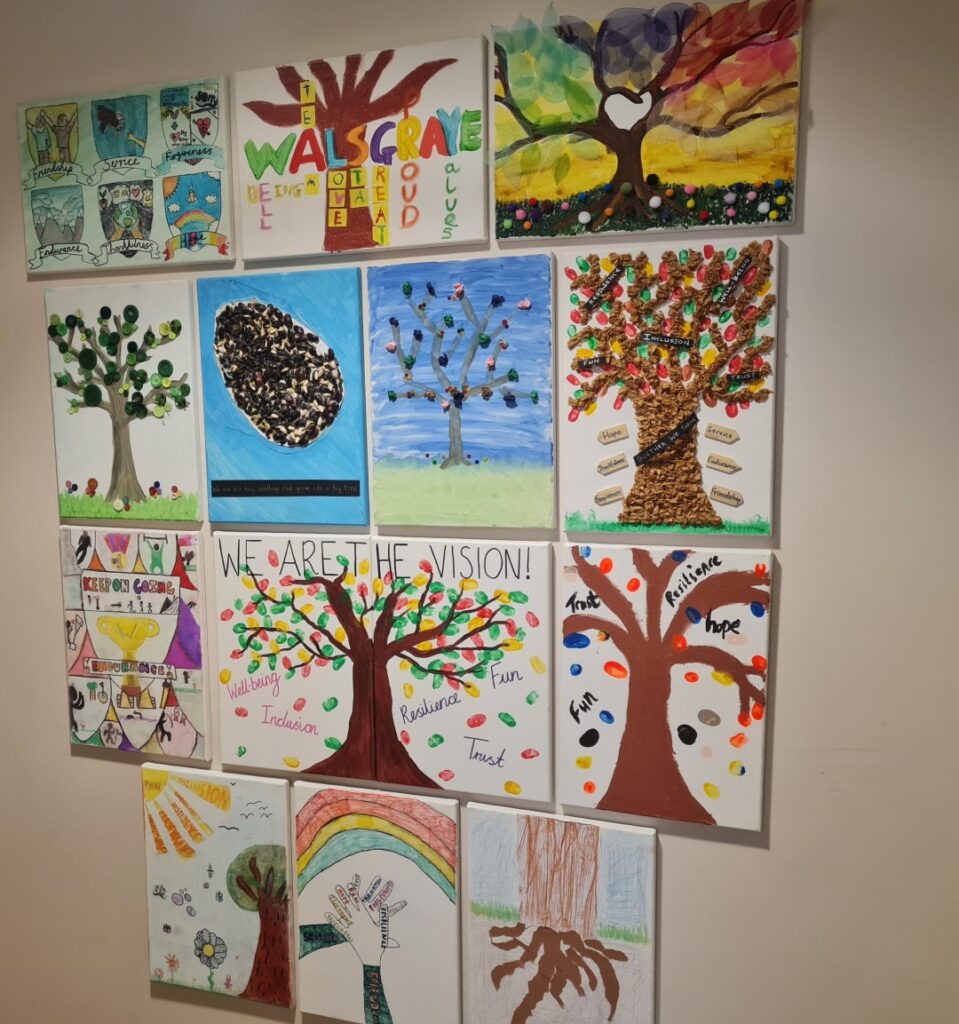 What are Walsgrave's Extended Values?
Fun



At Walsgrave, we jump in and buckle up for each and every school day. Walsgrave is the rocket that blasts us into a world of unknown adventures which take us on a memorable and fun journey which we all can be a part of. Walsgrave helps us to enjoy life in all its fullness.




Trust



Walsgrave is like the Shepherd tending to his flock, just as the sheep trust in their shepherd's direction, up hills, down dales, when there's a wolf around or when the sun shines and wee bask in it, everything we do at Walsgrave is based on trust. Here we trust in God's direction, trust that he and all of us will support each other in life's highs and lows and we trust when we can be honest and open, kept safe and enjoy learning. If any sheep get lost or hurt, the shepherd will find it and look after it, so our trust means that we are all kept close and can move together through our school journey.



Resilience



Sailing along your way you come across may obstacles. Rocks can block your path, you don't turn back, Walsgrave has taught you to paddle around them. Waters can become choppy and cause you to fall out, Walsgrave has taught you not to panic and to keep moving forward. Sometimes you drift into the reeds, Walsgrave can be the team to re-direct you on your journey. Obstacles don't stop you along your path, Walsgrave has shown you not to fear change, but face it and never turn back.



Well-Being



We all walk different paths on our way to Walsgrave. Some paths are smooth, full of sunlight, blue skies, laughter and happy memories. Others are stormy, cold, dark and lonely – but all lead to Walsgrave. Walsgrave can be the warm blanket at the end of your journey, the friendly smile or the safe place to be your whole self. Walsgrave gives you the tools to face your future paths, whatever they may hold.

Inclusion

All of the children and staff are like the body. God has placed us together here at Walsgrave so that when one part of the body is hurt we stand together to make it strong again. We all look different, have different parts to play but it is only when we work together that we can stand and walk through life day by day.
What are Walsgrave's aims?
Personal Growth:



Walsgrave's soil welcomes many young seedlings Walsgrave ensures its soil is not hard or harsh, it provides the good soil to allow its seedlings to take root and build solid foundations, ready to sprout and grow. Providing rays of encouragement and a healthy watering of acceptance, love and care our seedlings begin to grow. They are delicate and fragile, still needing the soil to give them warmth required to flourish and blossom into their beautiful self. Our seedlings blossom into many different shapes, sizes and colours, but Walsgrave has been the good soil, the warmth and nourishment to blossom into their true selves.



Wider Community:



In the middle of a field stands a tree. Its roots travel down deep into the ground below it is strong and steady and will not be easily shaken. Its branches spread out wide offering shelter and comfort. All are welcome under the spread of the leaves. They can come back as many times as they need and always find safety. Everyone finds a place where they can belong, feel valued and respected. Whether you are an animal making a home or a chick ready to fly the nest the tree does not whither or die, it continues to flourish bearing fruit and providing for those around it.



Personal Skills:



Let's come together and lets all see, it's time to listen to what makes me, me. I've got skills and talents which I try to hide but give me some time to show what's inside. You'll see me grow before your eyes; I know it will give you such a surprise. When you see me stand in front of you I'll show you what I love to do. Then you'll know I'll achieve in all that I do. Not just skills and talents but in all my learning to. So, look at me now there's more to me but remember I'll grow individually.



Teacher Staff Wellbeing:



On the runway ready to take flight final checks are completed. Everything needs to be just right, passengers on board, luggage loaded and the cabin crew are ready to take off but what about the pilot? So Many checks to complete, so many people to keep safe what to do first? What if they forget something? What if something goes wrong? Don't panic prioritise ask air traffic control take support from the co-pilot, communicate with your cabin crew. You can get the plane in the air, stick to the checklist, ask for advice and you can reach your end destination where you can relax knowing you have done all you can until your next flight.